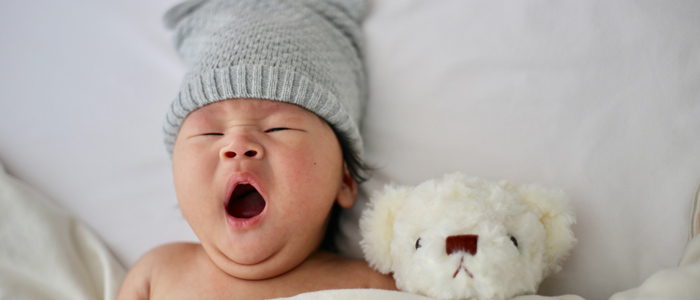 The pediatric dentists will help you better understand important developmental milestones for your child. During the infant oral health exam, they'll also review how you manage your child's dental hygiene and offer tips.
recommends that all children see a dentist as soon as their first tooth erupts or by their first birthday. The first few visits with our
What to Expect at Your Infant's Oral Health Exam
Crying Is Normal
We try to keep your
as short as possible. Still, short appointments don't always guarantee happy babies.
Don't be alarmed if your child fusses during their appointment. It's normal for babies to feel overstimulated when confronted with new places, people, and things. If anything, crying gives the pediatric dentist a chance to look inside your baby's mouth.
If you're worried about your baby crying, remember that the dental exam doesn't hurt your child. It is important for you to be strong for your child and help them start life right with a healthy mouth.
Knee-to-Knee Set-up
During the baby oral health exam, we do everything we can to help your child feel comfortable and safe. For this reason, one of our pediatric dentists will sit knee-to-knee with you while your child lays in your lap.
Babies often feel more at ease when they know Mom and Dad are close. Our pediatric dentists examine patients this way when they are too small for the dental chair.
For the infant oral health exam, you'll sit facing one of our
with your knees touching. We'll then ask you to position your child on your lap so they're facing you with their legs wrapped around your waist. You'll then lay your child's head on the dentist's lap.
Safe, Gentle Examination
During your child's first dentist appointment, we'll gently inspect your child's mouth with a soft-bristled toothbrush and mirror. We ask that you hold your child's hands over their tummy to soothe them and make sure they hold still during the dental exam.
Our pediatric dentists will make sure everything looks okay and answer any questions you might have during this time. Your cooperation is absolutely vital for ensuring your infant has a safe oral health exam.
Schedule Your Child's First Appointment
Our Hudsonville, MI, pediatric dentists can help your baby start their oral health journey on the right foot with an infant oral health exam. To schedule an appointment with Hudsonville Dental Kids, call (616) 209-4039.