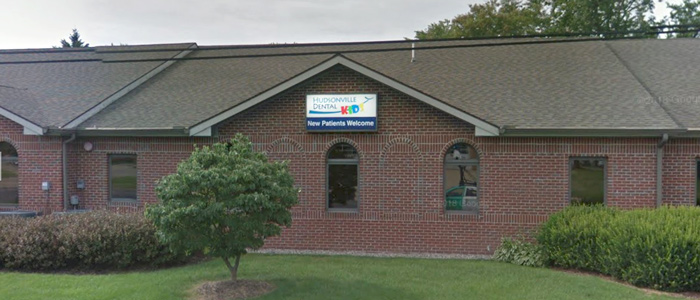 Our pediatric dentists offer a range of services to help your child maintain healthy teeth and gums. Click or tap the buttons below to learn more about the dental services we offer patients age 18 and younger.
Our Hudsonville, MI, pediatric dentists are here to help protect your child's oral health. To schedule an appointment with Hudsonville Dental Kids, call (616) 209-4039.
The first few visits with our pediatric dentists will help you better understand important developmental milestones for your child. During the infant oral health exam, they'll also review how you manage your child's dental hygiene and offer tips.
---
Is your child prone to getting cavities? If so, you may want to ask our pediatric dentists about getting sealants. Dental sealants are thin protective coatings our dentists can paint on the chewing surface of your child's back teeth. Sealants work by covering the deep grooves and divots in your child's back teeth where plaque like to hide.
---
Laughing gas can help your child relax in the dentist's chair so they get the care they need. We understand that some patients may feel nervous or even afraid about going to the dentist. This is why our pediatric dentists do everything they can to make every child feel safe and comfortable.
---
Accidents happen, which is why our emergency pediatric dentists are available after hours. The sooner you call our office, the sooner your child can receive the emergency dental care they need.
---
Our pediatric dentists may recommend your child go under general anesthesia if they have special needs that prevent them from holding still or tolerating treatment. Likewise, they may recommend general anesthesia if your child needs extensive dental work.
---
Tooth decay is the #1 chronic disease affecting American children, according to the
. The good news is that our pediatric dental office provides preventive care so your child can avoid cavities. Our pediatric dentists offer services like dental sealants and teeth cleanings.
---
The goal of restorative dentistry is to restore the function and appearance of your child's tooth. During your child's appointment, one of our pediatric dentists will thoroughly examine the inside of your child's mouth and take X-rays to catch any issues in their early stages.
---
Your child's baby teeth act as placeholders for their permanent adult teeth. This is why our
may recommend a space maintainer if your child prematurely loses a baby tooth before the adult tooth is ready to erupt. A space maintainer holds the empty space in your child's jaw, reserving it for the adult tooth.
---
Our pediatric dentists offer mild oral sedation to those patients who need it. Oral sedation is taken by mouth as either a pill or syrup, typically one hour before your child's appointment. Our office will contact you before your child's appointment with specific instructions for how and when your child should take the prescribed medication.
---
Our pediatric dental office maintains the highest standards of safety to provide patient-centered care. Safety is of utmost importance for patients of all ages, but especially so for babies, toddlers, school-age children, teenagers, and those with special needs.