4 Priorities of an Infant Oral Health Exam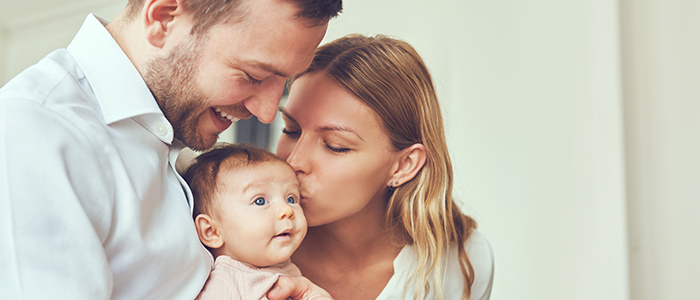 Our Hudsonville, MI, pediatric dentist encourages parents to not wait until their children have a full set of baby teeth to be seen for the first time. Sure, excellent dental care can still be provided at that stage, but it's best if we have them in the office early on for a proper infant oral health exam.
Here are 4 main focuses of this type of preventive visit and how the entire family can benefit.
What Is an Infant Oral Health Exam?
Compared to a standard dental exam for adults, an shares a similar purpose but does differ in the way the actual appointment is set up. For instance, we will have you sit knee-to-knee with our pediatric dentist. Your child will lay on your lap with their legs wrapped around your waist and their head on our dentist's lap.
Ultimately, this positioning increases the comfort level of your baby during the exam. It also makes the examination process easier for our dentist when patients are too small for the dental chair. The experience can be a lot for young children and they may become fussy when overstimulated but we will try to keep the visit short and sweet.
All in all, the infant oral health exam provides an opportunity for our dentist to see how your child's mouth is developing, evaluate their risk for early childhood dental diseases, and offer tips on oral hygiene.
During an Infant Oral Health Exam, We'll Focus On:
1) Taking a Look at Gum Tissue & Early Teeth
It's largely recommended by the American Academy of Pediatric Dentistry (AAPD) and American Dental Association (ADA) that your child see a dentist by the time they turn 1 or once their first tooth appears.
Regardless of which happens first, the actual exam will be the same. Once your child is situated in the position described above, our pediatric dentist will take a closer look at their extra and intra-oral tissues as well as their teeth. We'll also check for and take note of any present plaque, white tooth spots, oral injuries, or gingivitis.
2) Providing a Cavity Risk Assessment
Every child is different and therefore, may have a higher or lower risk of developing cavities than another child of the same age. The
is great for estimating this very risk.
If you've already gotten in the habit of wiping your baby's gums after every meal and before bedtime, cavities are much less likely. Keep up the good work! If you haven't, hope is not lost. Our pediatric dentist will ask you a few questions with regards to your baby's oral hygiene, exposure to fluoride, and family history to determine whether preventive intervention is needed.
3) Giving Advice on Diet & Non-Nutritive Sucking Habits
Before they're allowed to have more solid food around 6-8 months of age, babies are largely consuming formula or breast milk. Sippy cups and bottles are expected early on but should not be used for prolonged periods as they do allow for easy access to milk or juice.
Unfortunately, bottles given at bedtime or sugary drinks doled out during the day can lead to tooth decay in young children. Our dentist can discuss this issue with you when you are in our Hudsonville pediatric dental office and we can figure out the best dietary habits for babies and toddlers.
Excessive thumbsucking or pacifier use can also be talked about. We have a few helpful tips for stopping these habits by the time your child reaches the age range of 2-4 years old.
4) Introducing Fluoride When Appropriate
Fluoride is safe for children but should be used responsibly. Only a light smear of fluoride toothpaste (grain of rice size) is needed for children 3 and under. A pea-sized amount can be given when they're 3-6 years old. Our pediatric dentist recommends adult supervision when fluoride is given to your child to avoid overexposure.
Make an Appointment Today
Ready to bring your child in for their first visit? Our pediatric dentist in Hudsonville, MI, can perform an infant oral health exam and make sure that their smile is progressing in a healthy manner. Call Hudsonville Dental Kids today at (616) 209-4039 to schedule an appointment.